Articles
---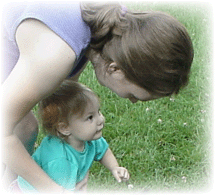 Welcome to our article database, where young mommies can find information on various topics of parenting.

3 Tips to Create Harmony Between Siblings

Sharpen the Axe, Not Your Tongue

Diapers - the Dirty Details

Massage Your Baby to Health and Happiness

BPA Baby Bottles: Keeping Your Little One Safe

Self-Care for Moms: 100 Things

Baby's On the Way

Teen Moms

From Singing to Signing

Talking To Your Kids About Strangers

Five Top Tips For Making A Diaper Cake

Cord Blood Banking

"Spin 'til you're Thin" - an inspirational story

---
If you have a non-commercial*** article that you would like to publish on this website, please e-mail the Site Director for more information. All submissions are welcome, and those that are published will be credited to the author, with a return e-mail address and website link included if applicable.
*** Articles may mention products & services, but may not be exclusively about any one product or service.
---