Support YoungMommies.com
---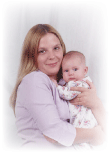 The Young Mommies Homesite has been helping to support young moms since 1999! We've had hundreds of moms as members of our Communities, and thousands of visitors to the site. We want to keep growing and to be one of the best resources on the net for teen mothers.
You can help support YM by:
* Hanging out at YM - stop by our message boards or check out our articles! :)
* Linking to us! Click here to get the codes for our banners that you can add on your website or blog.




* Becoming a fan of the Young Mommies Homesite on Facebook!

* Printing out one of our

Posters

and putting it up wherever you can to help spread the word about our supportive site for young moms!
* Donating to help cover the site hosting and domain registration costs! Every dollar helps!
| | | |
| --- | --- | --- |
| When you donate, please use the message box to tell us if you are comfortable with having your name included in our Donator's Gallery or not (last names are usually abbreviated to first letter only). | | |
* Speading the word... tell other young moms you know (either online or in real life) about the site and all that we have to offer here (all completely free).
* Shopping at the YM Store ($1-$3 from each purhcase goes to the YMH) or at one of our Affiliate's Stores! We've hand-picked only the very best in cool mommy and baby products to share with you.
Disclosure: the Young Mommies Homesite benefits by getting a small percentage of orders placed on stores we are affiliate of.
* Getting involved in the site as a volunteer: our blogs need Bloggers, our Boards need Moderators, our Research team needs Researchers, and more. Although we're not currently able to compensate any of our volunteer staff, we can certainly provide great letters of reference for our young mom helpers and you also have the knowledge that you have helped make things easier for other young and teen moms.
---
Supporters Gallery
Many thanks go out to the moms who have helped keep this site up and running over the years!
Thank you Danielle P.! ($25 Apr 2004)
Thank you Stefanie H.! ($20 Feb 2005)
Thank you Lisa N. from YUM! ($10 May 2005)
Thank you Karen C. from YUM! ($20 May 2005)
Thank you Amanda C.! ($5 May 2005)
Thank you Cindy M. from YUM! ($10 May 2005)
Thank you Lesley G.from YUM! ($10 May 2005)
Thank you Kristin F.from YUM! ($10 May 2005)
Thank you Mandi H. from the YM Boards! ($5 Jun 2005)
Thank you Becky G. from the YM Boards! ($20, Feb 2006)



Thank you Melissa L. from the YM Boards! ($100 2007)


Thank you Pam ($40) ~ please read her touching story of a woman re-united with her birth mother on this page.



We're hoping to register as an official charity soon so that moms can get a receipt for any donations!
---