Young Mommies Store
---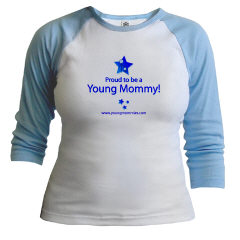 Welcome to the YM Store! Show that you are proud to be a Young Mommy with our cute shirts & other products. :) Let others know that young mommies are still great mommies by wearing or toting some of these great products.
Since we are a not-for-profit site run 100% by volunteers, all proceeds from the sale of Young Mommy products go directly to supporting the site and keeping it up and running, free of charge, pop-up banner-free, low on ads, and most importantly, great! :)
---
Our Stores:

YM Wear ("Proud to be a young mommy" ~ blue star style)


Baby and toddler shirts ("My young mommy is a great mommy!")


YM Wear ("Proud young mommy" ~ red heart style)


Soccer Mommies Wear ("Mommy to a Soccer Star" attire, "Future Soccer Star" belly shirts)


Please be patient as we fix our stores! CafePress changed the way it displays transparencies, so areas that previously we white are now showing black (or are showing through to the darker fabric). It will take time to go through and update our graphics to have white backgrounds, then re-upload them and add them to the clothing! Sorrt for the inconvenience and if there are any difficulties with orders, please make sure to give us (or CafePress) a shout so we can try to help!
---
Affiliate Stores:
---