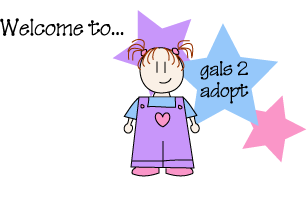 Welcome to the new *gals 2 adopt* adoptions page! :) Please read our little rules before you adopt one of our "gals". ;) And please don't forget to sign our guestbook or add yourself to our update list so that we can keep you updated when new "gals" are added! :)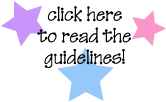 Click on this link to read our very important guidelines! You may not adopt one of our *gals* without agreeing to these guidelines!

What's New?
March 2004!
Well, *gals2adopt* was closed for a while but is now open again thanks to hosting now provided by youngmommies.com! We have created a special limited edition "YM gal" because of this. Here she is! This one is a strawberry blonde, but we are hoping to create more YM gals with different hair and skin colours sometime soon.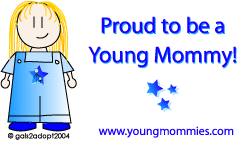 And don't forget to save her adoption certificate along with her if you will be displaying her on your site: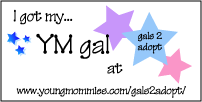 Collections..

Other Pages on this Site...

Link to us!
If you would like to link back to "gals 2 adopt" (besides the link you need to have with each gal's certificate), you can use our logo - save one the graphics below to use to link to us! :)